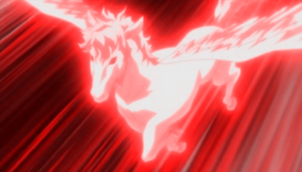 Hyper Pegasus



Beyblade No.

EG-01

Owner

Face Bolt

Pegasus 4

Energy Ring

Pegasus 4

Fusion Wheel

Hyper

Spin Track

W105 (Wing 105)

Performance Tip

R2F (Rubber 2 Flat)

First Appearance

Type

All Around

Element(s)

Fire, Water, Earth, and Lightning
Hyper Pegasus is a hard bey to beat. It's owner is Kai Ice. It's type is All Around. It's element is Fire. This bey can talk, same with other beys. It's first Apperance was on Beyblade Evolution-G Episode 1, A New Beginning. Since it's an All Around type it can change types and elements anytime it wants. Like Water, Earth, and Lightning. The types it can change to is Balance, Tricky, Speed, and Defense. Pegasus had his final battle with Infifnity Drago but and won. Right after the battle, Kris and Rey joined Kai to get his friend back but they got ambushed and Derek destroyed Pegasus. Pegasus got destoyed and disapered into dust. It's spirit is dead and same with the bey.
Community content is available under
CC-BY-SA
unless otherwise noted.